Preventive Maintenance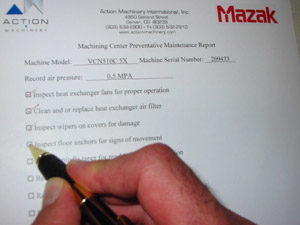 Keep your equipment in top running condition and ensure that your certifications and processes remain valid by performing regular preventive maintenance.  Action Machinery offers factory recommended preventive maintenance service for our customers.  We also provide factory recommended maintenance guidelines for those who want to perform their own maintenance.
Ease your maintenance burden.  Sign up for our regular preventive maintenance reminders…we will put your machine on our maintenance schedule and e-mail you a reminder you when it's time to perform your scheduled preventive maintenance.
Contact us to schedule your preventive maintenance or register for our maintenance reminder service.
Toll free – (888) 289-9100
Learn the true cost of using "Run to Failure Management" for your equipment maintenance.
Download "The Basics of Predictive/Preventive Maintenance"