Preventive Maintenance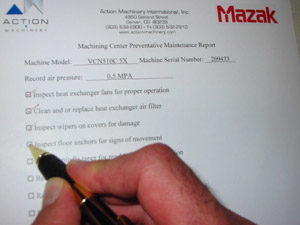 You know that you need to keep costs at your business low, but cutting down on equipment service and routine maintenance isn't going to save you money in the long run. In fact, using a so-called "run to Failure Management" system for your equipment maintenance will cost you more money. Instead of waiting until equipment breaks down, you need regular preventive maintenance on all your machinery.
At Action Machinery, we provide a full range of factory recommended preventive maintenance services so you can keep your equipment running at peak condition and ensure that your certifications and processes remain valid. Alternatively, if you'd rather perform your maintenance checks yourself, we also furnish you with the factory recommended preventive maintenance guidelines.
Our preventive maintenance service scope includes:
Full system checks: including mechanics, pneumatics, and electronics systems.
Tests: We check for incorrect settings, wear and tear, and possible equipment failures.
Routine adjustments: We make regular adjustments to keep your machinery in line with manufacturer guidelines.
Our recommendations for any additional needed service and repairs.
Accurpress Maintenance Checklist
Accurshear Maintenance Checklist
Ease your maintenance burden with our handy reminder service
Sign up for our regular preventive maintenance reminders. We will put your machine on our maintenance schedule and email you a reminder when it's time to perform your scheduled preventive maintenance. Remember, a temporary slowdown in production to perform preventive maintenance lengthens the life of your equipment and prevents equipment and machinery breakdowns that cost you money and lower your profits.
Contact us toll-free at (888) 289-9100 to schedule your preventive maintenance or register for our maintenance reminder service today. We'll help you lower costs and extend the life of your fabrication machinery and other equipment.
Learn the true cost of using "Run to Failure Management" for your equipment maintenance. Download "The Basics of Predictive/Preventive Maintenance"